Lady Bridge - Tamworth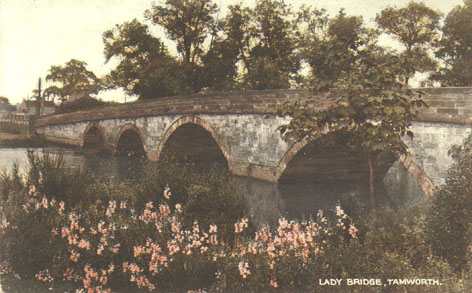 This is one of the two bridges leading into the town the other being Bolebridge.
Lady Bridge was at first a wooden structure recorded in the court records of the town as far back as 1294 where it is mentioned in connection with the washing of tripes in the river.For many years the townsfolk of Tamworth were charged a toll to cross the bridge and there was a toll house nearby which is just visible in the accompanying picture.In 1795 the bridge was destroyed by severe winter weather, and for a while people had to use the nearby ford to cross the river or make a detour and use Bolebridge instead.
In 1839 the bridge was widened to accommodate more traffic this work was partly paid for by Sir Robert Peel he donated £500 to the project. 100 years later the bridge was again widened to make it the bridge we see today.In the distant past the bridge was known as the "Bridge of our Lady" because of the statue of the Virgin Mary which once stood in the middle of the bridge.The plinth to this statue remains near to it's original site but the statue has long since disappeared, the plinth can be seen at the top of the mound on which Tamworth Castle stands.