Sir Robert Peel (1788-1850)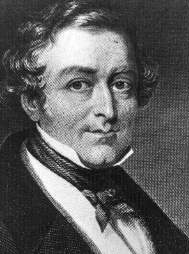 Born in 1788 he was the son of one of the countries first textile magnates.He was elected to Parliament in 1809 standing for the Tories. By 1812 he was Secretary for Ireland , a post he held until 1818.Then in 1822 he became Home Secretary until 1827, and then again from 1828-30. In 1823 he founded the Tamworth Savings Bank in his home town. It was in 1829 that he set up the metropolitan police or Peelers or Bobbies as they quickly became known.
During his time as Home Secretary he made some far reaching changes to the laws of the land, it was he who was responsible for making about 100 offences no longer punishable by death.He had two terms as Prime Minister the first 1834-5 and again in 1841-46.
The Tamworth Manifesto is the thing that most associates him with the town.This was a speech he gave in 1834 that promised the Tories would accept the Reform Bill of 1832.He is probably remembered most of all for repeal of the Corn Laws in 1846 this caused many of his followers to leave the Tory ranks and join the Liberals.Robert Peel died after a riding accident in 1850.Shortly before his death he opened another Peel School in Tamworth for the education of poor boys.During his lifetime his family home was Drayton Manor a splendid house which his father(also Robert Peel) built around 1790 and which Robert later extended he was also responsible for landscaping the gardens.
However the house came to a sad end in 1949 when it was demolished for the building materials it contained after a less responsible member of the family (the 4th Robert Peel) had gambled away the family fortune.

If you would like to find currently available books about Sir Robert Peel try amazon co.uk.