The Castle Grounds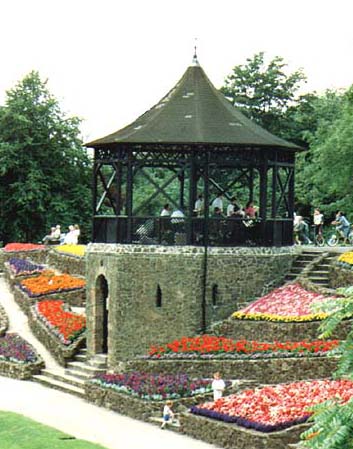 The Castle Grounds at Tamworth has a wide variety of diversions available for all the family.For the flower lover just the grounds themselves in the summertime will be a magnificent sight with a dazzling array of flowers planted all around the grounds.
For the children there is the Pirate Adventure Playground with its many activities to keep young toddlers busy, there is also another play area designed for older children just across the way from this. Next to this are the floodlit all weather Tennis Courts available for hire.A short walk from here and you are on part of the Tamworth Leisure Island Complex, it is then only another short walk to the Borrowpit Lake.
The Castle Grounds were originally conceived in the 1920's and they once covered more than 60 acres, much of this has now been swallowed up by modern development.A portion of the grounds were built on what was the council refuse tip this fact usually comes to light whenever there are any building works carried out in the grounds. I found a large selection of old glass bottles when the Snowdome was first being built. In 1936 the town got it's open air swimming baths in the grounds the remains of these now form the Pirate Adventure Playground mentioned above.