Drayton Manor-The House

Drayton Manor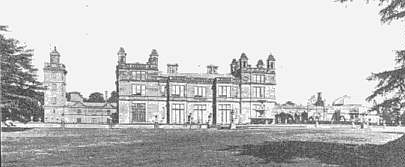 This magnificent manor house was built by the first Robert Peel around 1790 he was the father of the famous Robert Peel the Prime Minister who is commemorated with a statue in the centre of Tamworth in front of the Town Hall.The house played host to royalty on more than one occasion but it was the visit of Queen Victoria and Prince Albert in 1843 that is probably the most memorable.There were even two roads named after them in Tamworth. Both of these roads lead from the railway station where the Royal couple would have arrived for their visit. The second Robert Peel enlarged and improved upon his father's house.
The gardens were magnificent and had all kinds of exotic birds in residence including peacocks.Inside the house was a collection of rare books and paintings and a very large collection of stuffed animals and birds of every description.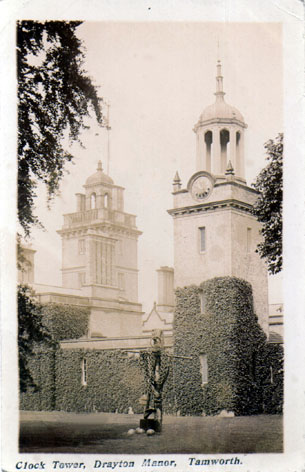 Sadly the house is no longer standing but it's clock tower remains as a reminder of a once superb house. Note in the picture on the right the ships anchor is the same one that now stands in the Castle Grounds.
This anchor was brought back from the Crimean War by William Peel the third son of Prime Minister Sir Robert Peel. William had a distinguished career in the British Navy.